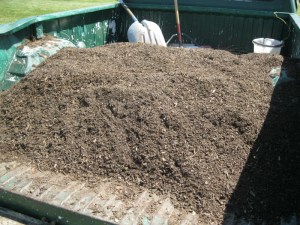 So you want to brew your own compost tea, eh?
Every organic gardener knows the value of compost – and these 6 simple steps of brewing fresh, homemade compost tea by Dr. C. Forrest McDowell and Tricia Clark-McDowell will take your composting to the next level.
"What is so wonderful about Compost Tea is that it can be made right at home from your own fresh, well-finished compost."
The 6 simple steps…
1.  Fill a bucket 1/3 full of quality finished compost
2.  Add unclorinated water to the top of the bucket
3.  Let the mixture steep for 3-4 days (stir occasionally)
4.  Strain the mixture
5.  Dilute the remaining liquid with water
6.  Use tea immediately
Read the full article for complete step-by-step instructions along with pictures at homecompostingmadeeasy.com…
What's your favorite compost tea recipe?
Let's talk about it in the comment section.