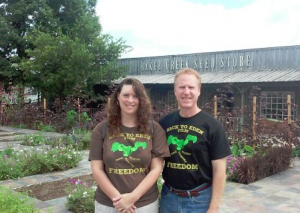 Nestled in the Ozark hill country of south central Missouri near Laura Ingalls Wilder's home is one of our favorite heirloom seed companies, Baker Creek Heirloom Seed Co. Only about a three and a half hour drive from our farm, we've wanted to make a visit to their farm for several years, but just couldn't work it out. Finally, we were able to make our first visit this last weekend. What a great story, and what a great place.
Below are some of our favorite pics from our visit. We're hoping to be able to make a trip to their huge annual spring planting festival in May. We hear they had close to 10,000 visitors this year, although their website says 7,500! We can only imagine all the gardeners camped at or around their farm.
Enjoy the pics. Have you ever made a trip to Baker Creek?