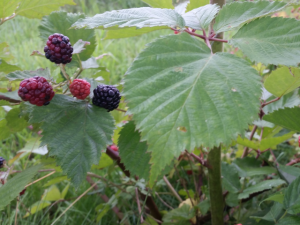 Berry gardeners eagerly anticipate that special time of year when berry season begins.
Picture yourself meandering through the berry patches browsing on fresh, plump berries as you go.  Oh so good…and so good for you!
Blackberries, like other berries, are high in antioxidants and rich in other vital nutrients. Besides eating them fresh, right off the vine—nothing better—they are great in smoothies.  Smooth them fresh or freeze them and smooth them later to have that great summer taste in the winter.
Tracy Russell, founder of Incredible Smoothies, encourages using blackberries in her smoothie recipes.  As Tracy says,
"Blackberries are among the top ranked antioxidant-rich fruits and also contain high levels of fiber, manganese, copper and vitamin C with only 61 calories and 2 grams of protein per cup."
So grab your pail and let's go berry picking!
Read Tracy's full blackberry smoothie article at incrediblesmoothies.com…
What you're your favorite blackberry treats?