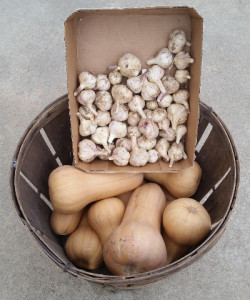 You've spent many hours working your garden and eating your great produce.  Or you've spent several hours gathering fresh produce from your local farmers market.  Winter comes around and it's all over.  Or is it?
Wouldn't it be great if you had some basic instructions on how to preserve that valuable food for the long winter months?  Abby Quillen gives some helpful advice you can start using now or use for the next harvest season.  And preserving the harvest does not have to be difficult.  As Abby says…
"Many fall crops can be safely stored and eaten over the winter months without the use of fancy canning equipment."
Crops like squash, onions, garlic and potatoes are easy to store.  Other crops like apples and root vegetables need a little more care to ensure colder storage temperatures and the right moisture levels.  But all these crops can be stored using low-tech equipment or using spaces already around your house or yard.