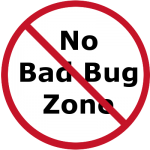 Herrick Kimball theorizes that soil mineralization is the key to knocking out bad bugs in his garden.  Instead of using insecticides, the right balance of minerals in the soil will naturally make the bad bugs disappear.  Kimball has been made a believer that,
"A proper balance of minerals is supposed to result in healthy plants, more nutritious food, and significantly less insect damage."
Be sure to get a good balance of minerals in your soil—and watch the bad bugs disappear.  Check out Kimball's brief blog post to see his results.
Read the blog post at The Deliberate Agrarian…
And for us Back to Eden Film gardeners, what better way to get the right mix of minerals in our soil than letting the soil creatures do the work for us while they enjoy munching on wood chips.  Truly, simple solutions to sustainable living are the way to go!