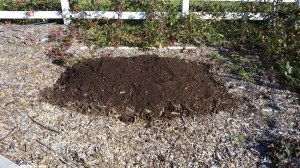 When it comes to simple, sustainable alternative gardening methods, don't google it, hugel it!
The no-till German way that is.
This past weekend I got inspired by Erica Strauss' article on building hugelkultur. So I went out and converted a water filled sunken compost pit into my first hugelkultur.
"The latest bed-building method to turn gardeners' heads is actually an ancient technique called hügelkultur. The German word, meaning "mound culture," is usually pronounced "hoo-gull culture" in English-speaking gardening circles."
Erica says the hugelkulturs differ from traditional no-till beds in five primary ways:
Woody Base Material
Size
Angle of Bed Sides
Long-Term Soil Fertility
Moister Retention
Read Erica's full article at urbanfarmonline.com…
Have you experimented with a Hugel?