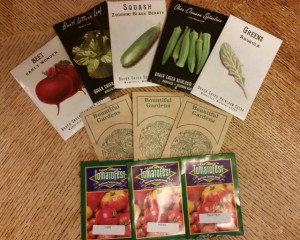 Getting organized is a must have New Year action item for gardeners.
…And what better place to start than organizing your existing garden seed collection.
When it comes to organizing, simple is best.  The more complex your system, the more difficult it is to keep up.  But it needs to robust enough to keep your seeds in good order so you are not wasting time or buying seeds you already have.
Connie over at urbanoveralls.net uses a simple two-step method.  She reflects…
"If it wasn't for organization, I would probably have 4 or 5 packets of the same type of beefsteak or cherry tomato or perhaps I had forgotten that I still had basil seed left over from the previous season."
Step one in her system is the simplest and may be all you need to get started.