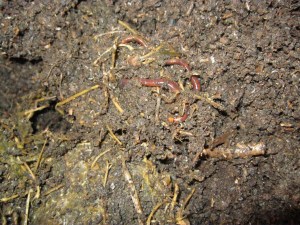 So you want to a start a worm farm, eh?
I've been raising worms and composting in my basement on a small scale for over nine years.  I just love it.  It's fun and a great way to produce high impact compost for…
Feeding indoor plants,
A secret ingredient in your own seed starter mix,
Mixing into your garden transplant holes to reduce transplant shock, and
Many other uses.
It's also an easy, sustainable way to recycle vegetable kitchen scraps.  The worms quietly go about their business day in and day out with only a small amount of care needed by you.
Henry Owen provides some simple steps to begin your first worm farm.  As Henry says,
"Worm composting (also known as worm farming) allows you to responsibly dispose of your vegetable food scraps while at the same time creating a nutrient-rich compost that you can use on your indoor or outdoor plants to make them healthier."
The simple steps Henry walks you through include…
1. Making or choosing a simple container
2. Getting your first batch of worms
3. Preparing the right bedding
4. Keeping the right moisture level
5. Feeding your worms, and
6. Harvesting the compost (poop).
Read Henry's full article at wormcompostinghq.com…