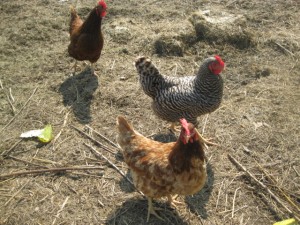 You're growing your own food, but it sure takes like a lot of work.  The constant weeding, controlling bad bugs, tilling, fertilizing, watering—wow, is it worth it?! Then add on top of that, doing all this in the hot summer months.  It should be a joyful and fulfilling experience, but it's not.  There's got to be a better way.
Annette Cottrell, writing for the Sustainable Eats blog, goes through simple, but effective solutions for incorporating small animals into our gardening activities.  Her holistic approach, and one we have used successfully ourselves, uses small animals to help us do the work while letting them freely express themselves in how God designed them to be.
Not only do the animals help you do the work, they help you "fix the dirt."  Or as Annette writes,
"…in the end the most important thing in your garden is not the plants – it's the soil."
Chickens, ducks, rabbits, goats, worms, people—let us all work together to bring the soil back to a healthy state that creates health as God designed.
Read Annette's original article at sustainableeats.com…