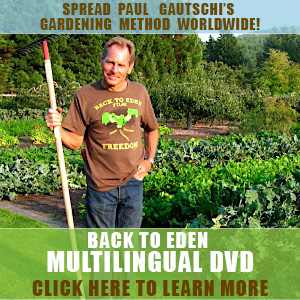 Help us spread the Back to Eden gardening message around the globe.
We are huge fans of the Back to Eden method and message.  In fact, every day we continue to build new BTE areas around our small homestead.  And, helping spread the BTE message was the foundation of Father's Earth Gear.
When we learned of the new effort to produce a multilingual DVD version to spread the message even further around the world, we were excited to join right in.
The film makers are running a 30 day Indiegogo campaign to raise the needed funds to produce the new DVD version. We invite you to join with us in helping fund the campaign or spread the word to all your family and friends.
Share the privilege of spreading the message of Paul Gautschi around the world!