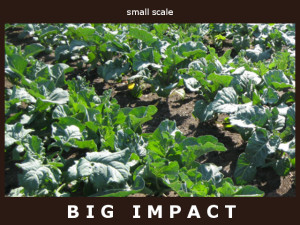 Your garden, no matter how big or small, can have a huge impact.
Is Big Ag really the "savior" of the world's food supply?  The major Ag schools and big chemical companies would have us think so.
But are they right?  Barbara Damrosch highlights a key study—International Assessment of Agricultural Science and Technology for Development—that begs to differ.  Based on this and other studies, Barbara asserts…
"If given a chance, small-scale farms could make a difference in solving [the] hunger problem."
And not only can small-scale farms make a difference, but also home gardens.  So get out your seeds, rake and woodchips and start making a BIG IMPACT on world food supply—from one small grower to the next!